Has your hotel's social media fallen flat? Are your engagement rates dropping? Do your posts seem repetitive? If you answered yes to any of these questions, it may be time to freshen up your posts with new content for your audience to interact with.
Consistent posting on social media is absolutely crucial to stay relevant and engaged with your audience, but if you post the same few things over and over, you will quickly lose your audience. If you missed our webinar, "Set Your Hotel Up For Social Media Success" this past December, amp up your hotel's social media by incorporating these five content ideas into your 2019 social media strategy:
1. Showcase Awards and Positive Reviews
Highlight your successes on social media! Has your hotel received any awards from OTAs or within your local community? If so, create a quick graphic using some of the best tools and show off your achievements. Another opportunity is to share positive reviews from guests mentioning the perks future guests can expect during their stay.
2. Promote Special Menus, Happy Hours, and On-Site Events
As you know, social media is all about being in the moment. Does your hotel have any new special menus or a signature cocktail? A happy hour? Entice your guests to take advantage of these opportunities with a post on your social media.
3. Share Thrillist Articles
Thrillist is a content goldmine! Search your nearest metropolitan area and you will find a boatload of lists that are perfect for sharing on social media! These lists usually show off the best places to eat, local attractions and buzzworthy events in your area, which guests will love to read before they visit.
4. Showcase Local Area Events and Major Attractions
Whether your hotel is located in a busy city or a quiet suburb, potential guests want to know what there is to do in your local area! Sharing main local attractions on social media helps future guests plan their itineraries and also gets your hotel involved in the community.
5. Post User-Generated Content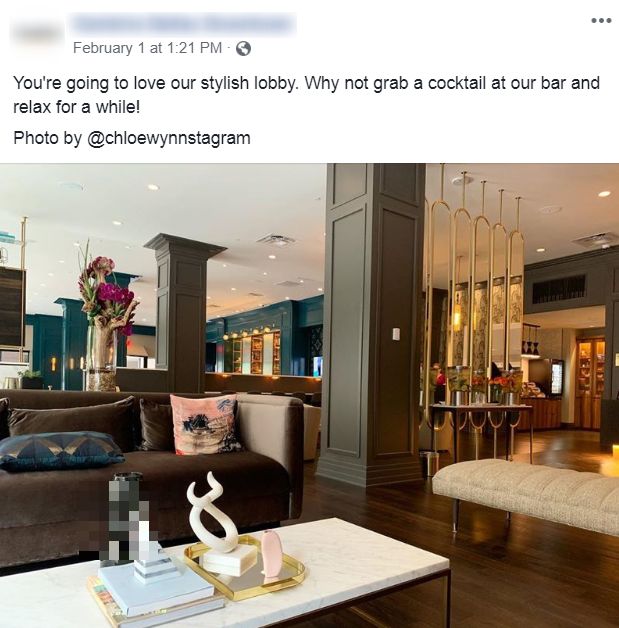 User-Generated Content (also known as UGC) comes from photos of your hotel that guests have shared across social media. While professional hotel photography is beautiful, UGC is great for re-sharing on your social media because it provides potential guests a real feel for what staying at your hotel is like!
Ready, set, post!
Implement these new content ideas into your 2019 social media strategy and watch your hotel's followers grow!
Have you seen other exciting way companies have spiced up their social media posts? We would love to hear about them. Please tweet them to us – @blue_magnet.
Stay up-to-date on all the latest trends in social media marketing by subscribing to our newsletter below, following us on Twitter or Instagram, or bookmarking our blog.