Your full digital toolkit under one roof
Your customers' journey to conversion is rarely instantaneous–it's a multi-step path that often spans many digital channels, crosses over devices, and intersects with dozens of websites. Blue Magnet digital marketing delivers quality content targeted to visitors every step of the way.
Your Trusted Digital Marketing Partner
Increase the reach and impact of your message with our integrated, multi-channel approach to digital marketing.
You have the complete marketing support of our talented digital marketing team. We're always responsive and ready to lead your business to success.
Hitch your wagon to Blue Magnet's star and experience results from our 20 years of experience, evolution, and innovation in digital marketing.
Search Engine Optimization
Search engine rankings are a measurement of your website's authority, relevance, and trust in the marketplace. Blue Magnet SEO builds upon these core qualities of your website, driving qualified customers to your brand. Our SEO solutions are infused into your website's core architecture, populate the copywriting of every page, and boost visibility for your brand in the search engines for topics searched by your customers.
Gain instant visibility and precise demographic targeting for your business across devices with Blue Magnet paid advertising solutions.  Our media plan provides recommended ad budgets, audience targeting, copywriting and creative, and comprehensive reporting. Whether you advertise on paid search, display, metasearch, or paid social, your campaigns should continually evolve with your customers. Blue Magnet ensures that they do. 
Social media is a critical part of your customers' buying cycle.  Effective social media offers your brand a direct line of communication with some of its greatest advocates, providing an essential and expansive platform on which to create awareness and foster community. Blue Magnet writes, designs, schedules, and broadcasts your marketing messages to your audience across key social media platforms such as Facebook, Instagram, and Twitter.
Number of reviews, positive reviews, and your brand's response to those reviews can have a significant impact on your company's ranking on sites like Google My Business, Yelp, TripAdvisor, and more.  Being able to monitor and respond to both frustrated and happy customers shows potential buyers that yours is a brand that takes customer satisfaction seriously.  Blue Magnet will monitor and respond to reviews on key review platforms, ensuring that our messaging conforms to your brand's standards.
Email marketing continues to have one of the highest ROI of any digital marketing channel. It provides a simple way to connect with past, present, and future customers and allows for excellent segmentation of your customer base for targeted messaging. Blue Magnet creates and manages customized email campaigns that include distribution strategy, campaign management, list management, template design, mobile optimization, copywriting, and performance reporting.
You have goals for your business.  Blue Magnet provides a roadmap for how to achieve them. Through our comprehensive marketing plans we provide detailed recommendations for digital marketing channels, ad spend, timelines, tools, reporting, and analytics to make the most effective use of every marketing dollar. We succeed when you do.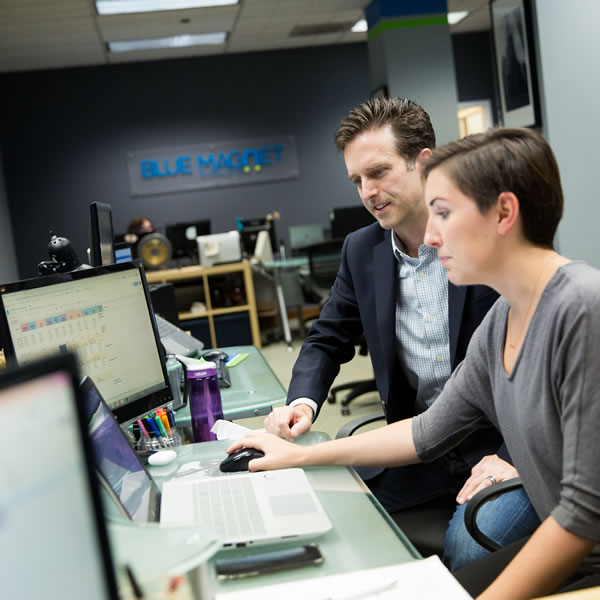 Improve Website efficiency
One million visitors to your website sounds wonderful…unless your conversion rate is zero.  Blue Magnet's Conversion Optimization service identifies and shapes several clear sales funnels within your site, creating a path for qualified visitors to complete their purchase.  By guiding visitors through the strongest path to conversion, Blue Magnet ensures your website is working smarter, not harder.
With over 20 years of experience helping hotels drive direct bookings online, Blue Magnet's holistic online marketing connects with your customers through every step of their travel-planning journey. Drive qualified traffic, boost your conversion rate, and take back control of your digital marketing from the OTAs with Blue Magnet on your team!
What to Expect
from Stress-Free Marketing
Digital marketing done right is complex, composed of dozens of moving parts that all need to work together in unison. Let Blue Magnet worry about the website hosting, ad campaigns, content updates, search visibility, and conversion rates so you can focus on what you do best: running your business.